Closing our Nursery Division!
Last chance to get hundreds of high-quality and rare Japanese Maples at discounted prices!
Friday May 1st - Sunday May 3rd, 9am - 5pm
8604 NE Eglon Rd., Kingston, WA 98346 - While Supplies Last
HUGE CLOSE-OUT SALE
---
Eglon Nursery is a family owned and operated wholesale grower of Japanese maples in Kingston, Washington.
We are committed to growing the finest quality maples and making them available to quality garden centers and landscapers in Washington State. Japanese maples are our specialty and we are currently propagating over 100 varieties. We have been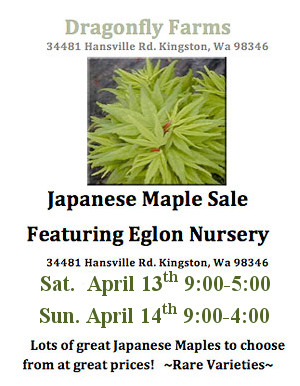 growing Japanese maples in Kitsap County for over 2 generations.
We propagate over 2000 maples each season. We propagate over 100 different varieties of maples; so we have limited stock of each selection. We are a small nursery, so all grafting is done in house, and we oversee that only the best plant material is used to propagate. We try to grow an adequate number of each variety to keep our customers satisfied and coming back each year. We are always looking for new unique varieties to add to our selection. In the last two years we have started propagation over 15 new varieties. We have thousands of maples in 2 and 3 gallon containers and are starting to grow a few select varieties in 7 gallon containers.

Why are we different?
We are maple specialists. Our goal is to provide you with the best product at a good value. We are a small nursery that is family owned and operated, which allows us to care for the trees individually, giving each plant the attention it needs to grow into a high quality tree.

We grow our own rootstock for quality control and to make sure we avoid disease from outside sources. For this same reason, we graft most of the trees we offer to assure you the highest quality of maple possible. All of our maples are container grown, which gives them an excellent transplant success. We provide nurseries with healthy trees with great root systems that grow strong and vigorous from the start!

Kate's Korner is a section of our site with useful tips and articles to help you take care of your Japanese maple. Planting and feeding tips and soon featuring video segments on the care of Japanese maples.

For more information on Eglon Nursery click here.